Christina Aguilera Red Sin

This fall, Christina Aguilera will empower every woman to feel irresistible with her new fragrance, Red Sin. It is all about making a woman to feel seductive, captivating, and proud of her femininity.
Along with her glamorous and charismatic charm, Christina is known for her signature red lip, crediting the color red with having the capability to change the way a woman feels. Red represents the transformation from soft and innocent to powerful and alluring. With its deep, intense hue, a woman in red can command the attention in any room.
"I believe red is more than just a color," says Christina. "Wearing red can evoke emotions and make you feel sexy and confident. I created Red Sin with my love of the color red in mind – it can make you feel empowered, desirable and simply irresistible."
Red Sin is the perfect finishing touch for the woman who wants to reveal the tempting seductress within. Simply applying the luscious scent can create the feeling that anything is possible. Red Sin can give a powerful confidence that celebrates being a woman.
Red Sin captures the senses with its full fragrance, layered with delicious red top and middle notes. Delightfully sweet, the opening notes create the feeling of sensuality with red apple tantalizing you through its crisp, naturally delectable scent. Bringing sexiness to the top note is velvety and fiery cinnamon, mixing warmth and spice.
Its middle note brings a soft touch with red cyclamen. Also known as the "sacred blossom of love", the light floral scent escaping from the sensual flower is used in various love elixirs.
Musk, the trademark scent in Christina's fragrances, creates a smooth, irresistible note in the base. The allure of Red Sin comes alive with a creamy, exotic sandalwood and rich, spicy red ginger, making a woman just too delicious to resist.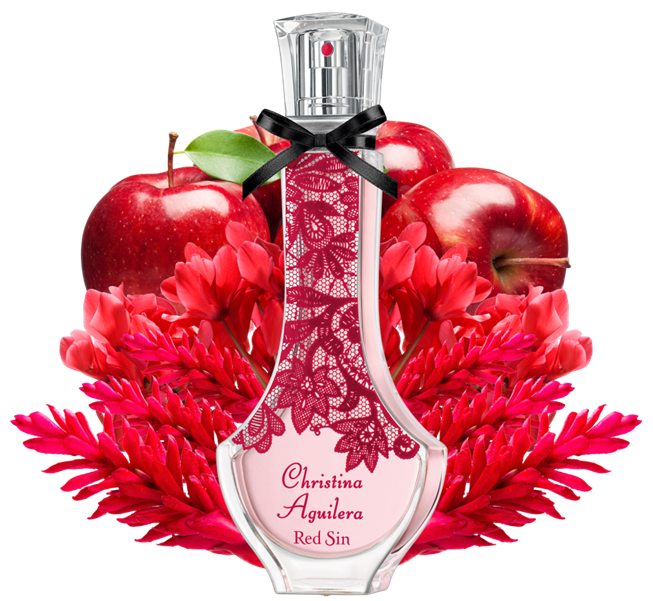 Fashioned with details that evoke a seductive attitude, the design of Red Sin reflects the sensation of being luxuriously sensual and enticing. Packaged in flirty red and innocent white, it elicits the feelings of indulgence and seduction.
Accented with a delicate red lace, the flacon stays true to what has become a signature of Christina's fragrances, mirroring the tantalizing curves of a woman's body. The seductive lace, in combination with the color red, evokes the feelings of attraction and being irresistible. A black bow on the bottle adds the final touch of femininity to the luxurious design.
Christina Aguleira Red Sin EdP 15 ml
Christina Aguleira Red Sin EdP 30 ml
Christina Aguleira Red Sin EdP 50 ml