Christina Aguilera Touch of Seduction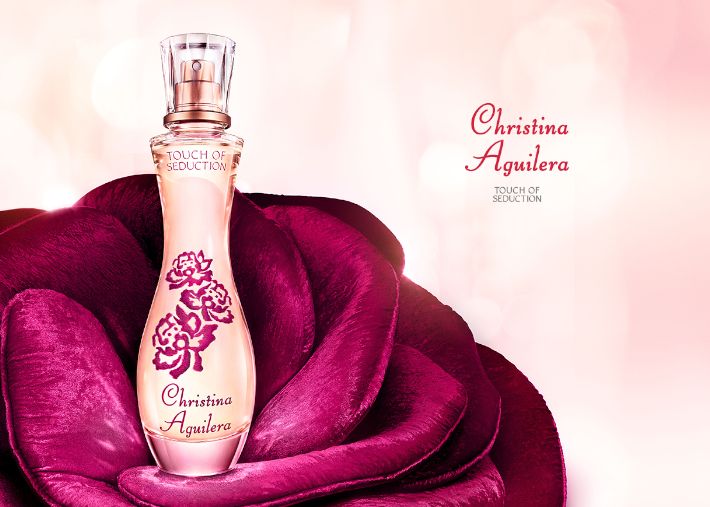 Touch of Seduction, the newest fragrance from Christina Aguilera is reflective of her personal journey and inspired by moments when Christina felt most seductive and passionate. As a multifaceted role model - a wife, a musician, mother and seductive woman -Touch of Seduction is designed to lend to its' wearers the same sense of self that Christina feels in herself.
"I want to inspire every woman to express her seductive side, and help find ways to connect with themselves to feel confident and desirable" says Christina. "My new fragrance embodies a smooth and luxurious sensation that feels like velvet caressing the skin."
Touch of Seduction stirs inner passion like the velvety petals of a rose bouquet When creating Touch of Seduction, Christina carefully chose seductive ingredients that are warm and tantalizing, encapsulating passion and romance in one unique blend.
Touch of Seduction is introduced with flirty top notes featuring white freesia enlightened with notes of smooth raspberry and dew lychee – a combination that provides a sense of sweet pleasure.
The heart of the fragrance is a striking bouquet of flowers; the sugar rose combined with graceful orris and radiant honeysuckle provides an addictive and suave floral signature.
Roses and vanilla are two of the oldest symbols of seduction – perfect and essential to Touch of Seduction's formula. The marriage of these seductive notes in combination with creamy sandalwood add a sensual trail and create an enveloping texture. Reinforced by sexy musk accord – a key note across and anchor of all of Christina's fragrances, due to its personal significance to Christina – the base leaves a very irresistible and velvety sensation on the skin.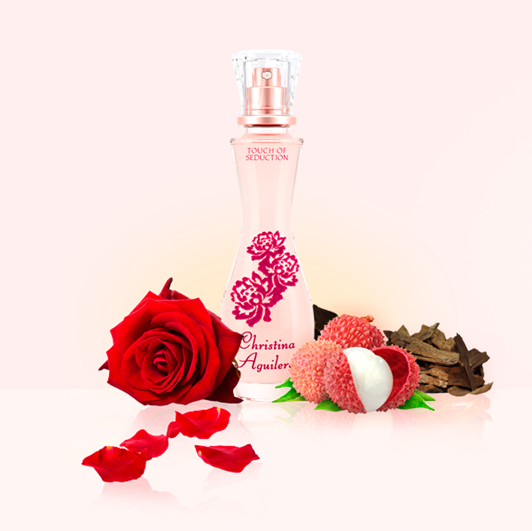 Touch of Seduction builds on our classic Signature bottle design, launched in October 2007. It comes with a modernized flacon that features beautifully feminine hourglass curves extending continuously around the vessel.
The graceful petals of a sugared rose, the lead accord in Touch of Seduction, are outlined on the flacon in haptic velvet; this iconic element will remind the wearer each time she picks up the fragrance of the seductive nature of velvet, and reinforce how the fragrance feels like velvety petals caressing the skin. The new packaging brings to life the inspiration behind the fragrance; the delicate sugared rose dances across the feminine curves, stirring inner passion and subtly drawing out the wearer's seductive side in an elevated manner, making her feel both sensual and elegant.
Christina Aguleira Touch of Seduction EdP 15 ml
Christina Aguleira Touch of Seduction EdP 30 ml
Christina Aguleira Touch of Seduction EdP 60 ml