Naomi Campbell Cat Deluxe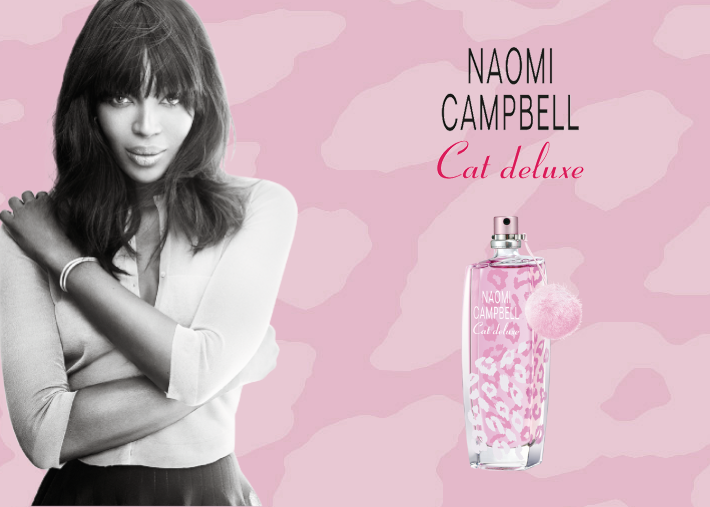 "Cat Deluxe is about innovative expression and self-discovery. Feel the cat inside of you!"

Sweet and innocent? Naughty and playful? The power of creative reinvention and self-discovery belongs to Naomi. The innocence of youthful femininity or the carnal power of physical attraction? Exuberant statements or the teasing luxury of concealment? Naomi incarnates these delicious contrasts, defining and re-creating her identity at will, according to her desires. She is an icon of modern femininity. Her character is a diverse fusion of strong, emotive qualities with a trend-setting edge. Demure elegance meets exotic sensuality. Provocation meets mystery. CAT DELUXE embodies this multi-faceted personality: a powerful statement combining trend-setting style and seductive intrigue.
It blends carnal physicality and frivolous enjoyment. It captures, teases, and empowers the wearer, catching the eye, before gradually revealing its true character. This arresting fragrance expresses the liberating self-discovery of inner sensuality.

THE FRAGRANCE

The flowery-chypre-fruity CAT DELUXE, is a tribute to a new generation of modern, trendy women. The fragrance is an exquisitely feminine provocation, a rich expression of sensuality, boldness and sophistication.
In creating CAT DELUXE it was tried to translate the harmonius blend of elegance, sensuality and wild spontaneity that epitomize Naomi.
It's a fruity-floral exhilarating accord of fresh freesia and crisp cardamom, bestowing a vibrant and lively luminosity to the fragrance.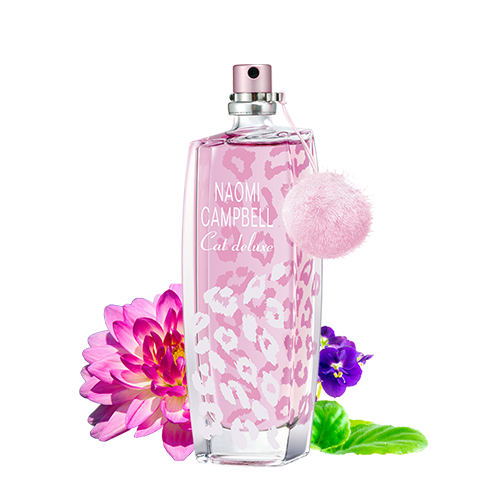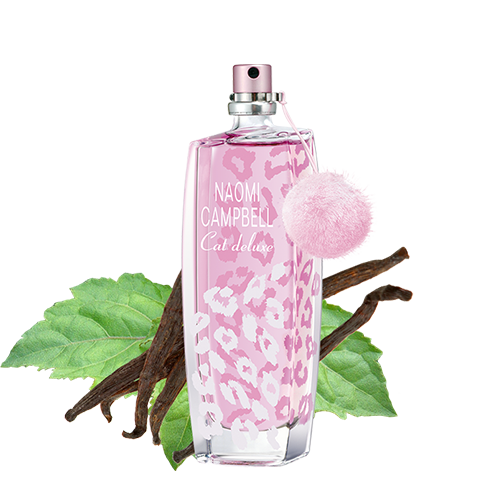 The sparkling-floral core is a luscious blend of deep violet, as a special ingredient, combined with rich peony and juicy peach, all rounding up into a sweetly seductive intensity.
An aromatic blend of sensual deep notes of amber, woody tones, musk, patchouli and vanilla, adds a warm and velvety quality to the scent, giving it sensuality and a powerful, almost magnetic attraction.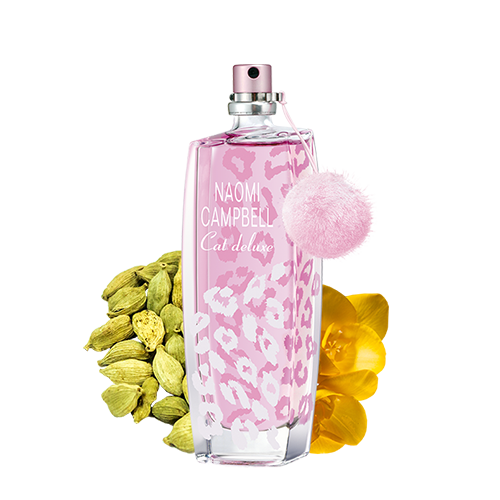 THE DESIGN

Created by Iconomy Design of Sydney, the flacon embodies feminine elegance – with a playful update. Clean lines are slightly twisted, hinting at sensual femininity and producing a unique form. This season's hot leopard print embraces the bottle – a trend-setting detail that catches the eye – yet does so in contrasting shades of pure innocent white, and flirtatious pink. It is an explicit invitation, almost a challenge: what do you want to be today? Wild and sensual? Innocent and frivolous? Every possibility is there. The top of the bottle is highlighted by the plush pompon clip, a trendy accessory that invites physical touch while raising a smile.
Encasing the flacon, the packaging shimmers as it blushes warm pink. The colours of the label are simple, almost classical – black and white. Yet subtle details hint at what lies beneath the surface. A delicately embossed leopard print evokes the animal within. The intense pink script glows with feminine power. Tall and slim, the packaging reserves a surprise with its unusual folding box.
Naomi Campbell Cat Deluxe EdT 15 ml
Naomi Campbell Cat Deluxe EdT 30 ml