Christina Aguilera Signature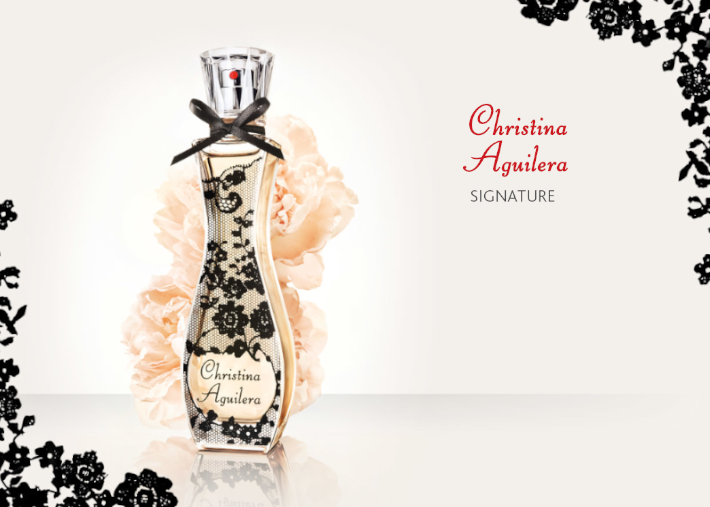 Sometimes it's an admiring glance and smile from across the room. Sometimes it's a new item of clothing. Chances are, however, you feel your best, your most confident, your most sexy, when you have applied your favourite scent. Sometimes it's all you need to wear to make you feel empowered.
Experts agree that fragrance is the ultimate mood-booster. That, when we find a fragrance perfectly in tune with our personality, it's like a shot of self-confidence. And confidence is sexy. Like a fantasy, we dare to be someone different. Sometimes a spritz of fragrance is all it takes to give us the confidence to be happy in our own skin. It has a direct cerebral connection that can make us feel seductive, glamorous, confident and supremely sexy.

Sexiness and confidence are qualities that Christina Aguilera has in abundance. Fiercely independent and unapologetically sexy, she has inspired legions of young women to follow her lead and embrace their seductive femininity. So it follows that her new signature scent should empower women to feel confident and sexy, too.
How? The new Christina Aguilera fragrance inspires sexiness with notes that exude confidence-boosting, uplifting, feminine qualities
Top notes of delicious exotic fruit sorbet, sparkling tangerine and mouth-watering blackcurrant tea add vibrancy; the energy to reach out and achieve your goals.

Heart notes of ultra feminine bouquet of stephanotis jasmine, peony and juicy plum reflect Christina's love of girly glamour, encouraging you to celebrate your femininity.

Meanwhile, lingering base notes of musk, amber, precious woods and creamy vanilla add a seductive drama that's empowering. Vanilla is a psychogenic aphrodisiac; it's been proven to heighten feelings of pleasure, but also of confidence-boosting ambition, so you dare to be sexy – and you enjoy it too. Resinous notes like amber are feted by fragrance insiders for their ability to inspire feelings of sensuality.
In addition, the packaging and print advertising campaign have a distinctly feminine and sexy feel. The bottle itself has a slender curve which is so subtle it brings to mind the desirable curves and form of the late screen sirens. Slender and shapely, it fits ergonomically in the palm of your hand. Its 'body' is wrapped, in a lace-effect montage that echoes the print advertising campaign, where, in black and white, Christina Aguilera, her back bare and exposed, is hugged by a black lace tattoo. Completing the boudoir-chic feel, the bottle cap has a crystal-effect top, a black ribbon bow tied neatly at its neck.
Christina Aguleira Signature Christina EdP 15 ml
Christina Aguleira Signature Christina EdP 30 ml
Christina Aguleira Signature Christina EdP 50 ml