"Live the moment with me. Feel the glamour, play and seduce…Who can resist the magic of the night?"
There is always a good reason to celebrate with the popular 'night-queens'. Stylish and savvy, they know the best night-spots in town, the hip places for a night of fun and of flirting and teasing. Confident and chic, in sexy frocks and stilettos, they are the queen at the dance floor, their sinuous bodies and glittery jewellery the centre of attraction and an irresistible source of seduction.
Naomi Campbell CAT DE LUXE AT NIGHT, inspired by her mysteriously feline beauty and unique style, and her provocative and sensual allure, is an exhilarating and sparkling cocktail, which blends juicy fruity tones with vivid florals and rich ambery and woody accords. The result is an intriguing fragrance for the contemporary young woman, expressing her multifaceted personality and playing a perfect balancing act between her graceful femininity and her naughty, seductive side.

Exuberant TOP NOTES of sparkling blackcurrant, sweet peach and a blend of juicy exotic fruits give a dynamic and bubbly introduction to CAT DELUXE AT NIGHT.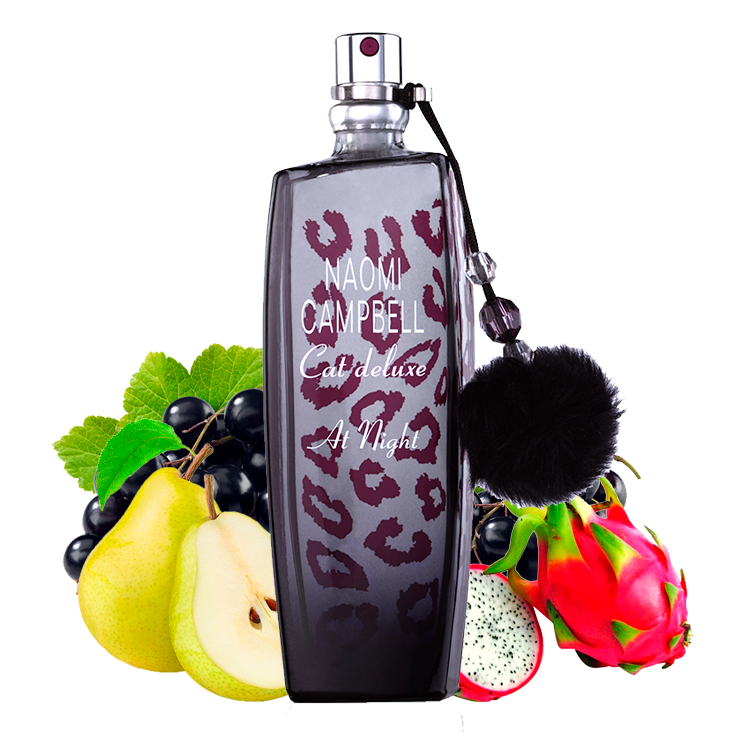 The HEART TONES are a delightful bouquet of vivid florals, such as cyclamen, with predominant notes of the dazzling, regal peony that carries an ultra feminine and refined aura to the fragrance's core.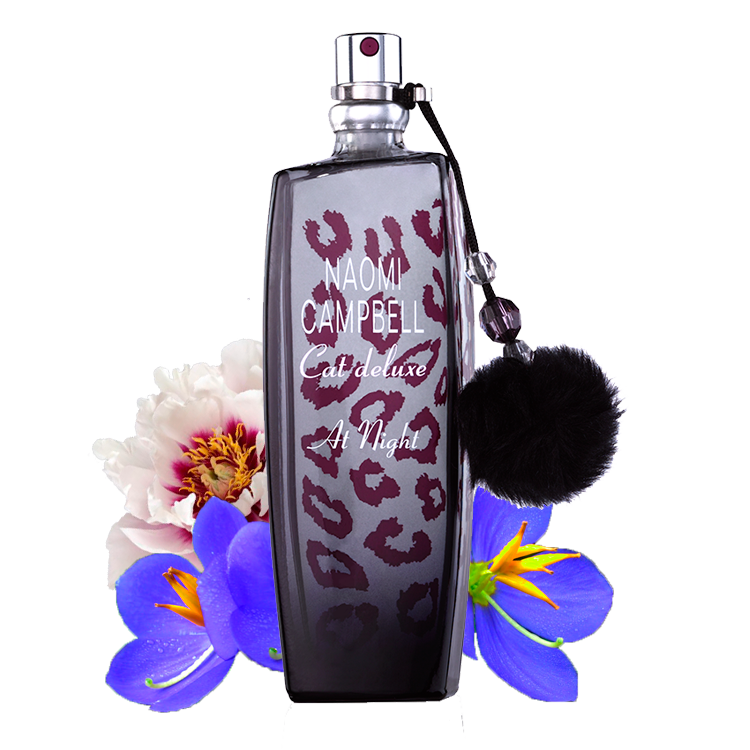 The BASE NOTES, a mysterious blend of soft cotton flower, precious woods and warm amber, round off the fragrance with a sensual, lingering, captivating trail.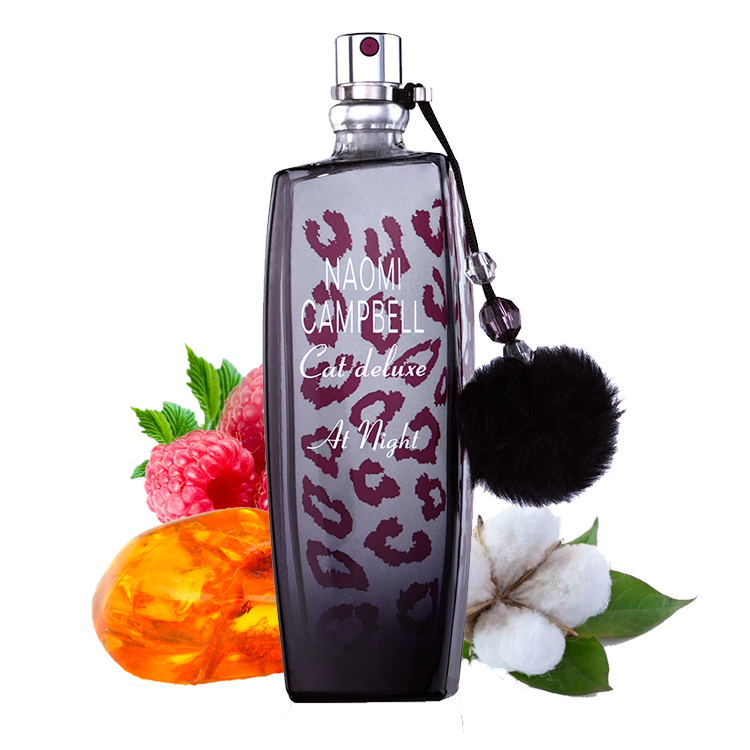 The flacon is sleek like modern sculpture inviting the touch. Crisp clean lines with a distinct angular shape suggest the seduction waiting inside…The deep-pink leopard print motif adorning the glass catches the eye, a trend-setting detail which hints at cat paws brushing gently against the surface, evoking the cat within. The top is adorned with a furry black pompom clip and tiny crystals, an allusion to the glittering visual identity and a stand alone stylish accessory. A modern spin on the ultra feminine- a challenge: are you ready to embrace the night tonight? Cat Deluxe at Night's iridescent packaging shimmers with a hint of cat print. The colours of the label are classic black and white, a sharp contrast to the edgy bright colour of the box. Naomi extends an invitation in her own script to come and "feel the attraction of the night". Enter Naomi's world with "Cat Deluxe at Night" – unleash the cat inside you.
Naomi Campbell Cat Deluxe at Night EdT 15 ml
Naomi Campbell Cat Deluxe at Night EdT 30 ml