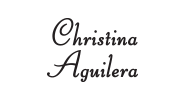 Christina Aguilera is an American pop star and actress who got her start on the Disney television channel series, "Mickey Mouse Club," alongside Britney Spears, Justin Timberlake and Ryan Gosling. Born in 1990, the star revealed her remarkable singing voice at a young age. After her appearances on Mickey Mouse Club, Aguilera got her start in the recording industry by singing "Reflection," the theme song to 1998 Disney Film Mulan.
Her debut solo album Christina Aguilera was released in 1999 and spawned three number one singles. The album sold more than 17 million copies worldwide and is one of the Top 100 Albums of All time, based on Recording Industry Association of America's U.S. sales statistics. Aguilera was nominated for a Grammy for Best Female Pop Vocal and won the Grammy for Best New Artist.
Her debut album was followed by her debut Spanish-language album, Mi Reflejo, and a Christmas album in 2000. She won a Latin Grammy Award and was named the best-selling recording artist of 2000. Her next album, 2002's Stripped revealed a more grown-up sound and image for Aguilera. She met her future husband, Jordan Bratman, that same year, and the pair were married in 2005.
Her next album, Back to Basics followed in 2006, after which Aguilera took time off for marriage and family. She gave birth to a son in 2008. Aguila's sixth studio album, Bionic, was released in 2010.
Christina Aguilera had performed small roles and cameos in several films, but her debut as a film star in 2010's Burlesque. She also appeared as a judge on television show "The Voice" and did guest vocals on Maroon 5's single, "Moves Like Jagger," which was nominated for a 2011 Grammy award.
Christina Aguilera's debut perfume, Xpose, was released only in Europe, in 2004. The 2007 release Christina Aguilera was the number one perfume in the UK the year it was released, and became a top-seller in Germany in 2009. Christina Aguilera fragrances are offered in conjunction with Procter & Gamble.
Designer Christina Aguilera has 15 perfumes in our fragrance base. The earliest edition was created in 2004 and the newest is from 2017. The nose who worked on the fragrances is Will Andrews.